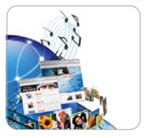 iLife is Apple's general purpose package for working with digital photos, video, audio and the Web. It usually receives an update every year around January/February but this year has been different. MacWorld came and went without a peep, leading to the general feeling that iLife would be released at the same time as OSX Leopard. But a few things have happened which suggests to me that iLife as we know it will cease to exist and its component applications will be absorbed into OSX Leopard:

Feature Parity with Windows Vista
The first reason lies in OSX's need to maintain feature parity, if not superiority, over Windows Vista. Whilst Apple have been quite vocal about Microsoft's feature copying in the past it would seem that Vista has digital media functionality currently lacking within OSX. This functionality ranges from the ability to manipulate digital photographs directly within the Windows Explorer through to the far more capable Movie Maker shipped on the Vista DVD. In contrast OSX needs the optional iLife package to provide this capability and as a consequence the degree to which OSX's default interface has been tailored to handle digital media is limited.
Functionality already present within developer builds of Leopard
A hint of forthcoming Leopard/iLife intergration has been illustrated in the latest developer build of Leopard. This build includes a 'Media' link in the Finder for displaying resources managed by iMovie, iPhoto and GarageBand. This kind of functionality is currently present within applications such as Pages and Keynote when iLife is installed but the fact it has made an appearance within the operating system suggests this tool-set will be far more ubiquitous in the future.
What else can Apple do to iLife?
The other problem that Apple must be facing is the looming question of what else to do to iLife to justify an upgrade. Numerous application iterations has seen its functionality reach a level where not a lot can be added without risk of eroding the lower end of Apple's professional application market. Where else can Apple go with iLife except for deep integration into Leopard alongside a healthy dose of Core Animation? By bringing together iLife's current capabilities, Core Animation's aesthetics and OSX's renowned ease of use Apple would create the 'complete package' discussed in the MacWorld keynote. Such a strategy would certainly provide them with some significant ammunition to fire in their war of words against Windows Vista.
Will it happen? Maybe not, but at least a number of other people are of the same opinion as myself which can't be a bad thing. I guess time (and Steve Jobs) will tell...