For the longest time finding a decent project management tool for OSX has been difficult, if not impossible depending on the features you require. Unfortunately even in the Windows world finding an alternative to the powerful but very expensive Microsoft Project is challenging. This is primarily because Microsoft Project pretty much owns the project management space in terms of the functionality provided and the level of lock-in demanded. Consequently with Microsoft not porting their application to OSX and alternatives lacking when it comes to functionality, usability and interoperability there is large void when it comes to the applicability of OSX to certain businesses. Fortunately the Omni Group have set out to change this fact with their first release of OmniPlan.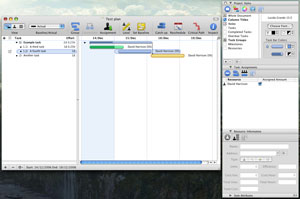 The OmniPlan workspace (click to enlarge)
The Omni Group have a long history of making great OSX software, in fact they started out developing software for the NEXTSTEP operating system - the forerunner of OSX. Without their OmniGraffle diagram/vector drawing package my life would be a whole lot harder. Omni Group software consistently gets even die hard Windows users drooling because of its ease of use, looks and depth of functionality. The reason why the Omni Group make excellent OSX software is because their products are designed specifically for the graphical and interface conventions of OSX. As their software is not simply a port of a Windows version or designed from the outset to run on multiple platforms the applications always look fantastic, integrate extensively with other OSX services and run as smooth as silk. I have been playing with OmniPlan and at this early stage it looks like the Omni Group have managed to maintain their high standards when it comes to functionality, usability and aesthetics.
When it comes to functionality OmniPlan covers all the bases and applies the standard (i.e. Microsoft Project) functional idioms when managing your projects. Being a 1.0 release the depth of functionality is not there just yet and for mid to hard-core Microsoft Project users they will soon become aware of missing, essential functionality. However if you are like me and only need to use project management tools every so often to create the odd overly ambitious gantt chart you will find OmniPlan meets your needs well. Without consulting the manual it is easy to add tasks, dependencies, resources (i.e. people) and plot critical paths if you have a little knowledge of Microsoft Project (or similar tool). In fact if you have experience with other Omni Group applications like OmniGraffle or OmniOutliner you will feel right at home as the same user-interface conventions and keyboard shortcuts are carried across into OmniPlan.
OmniPlan by default saves to its own proprietary format but for those working with Microsoft Project users you will be happy to hear that OmniPlan reads and writes Project XML and Project Exchange files. A note of caution though, I did not have any files to test the real-world compatibility of the formats and from past experience your mileage may vary when it comes to swapping complex data between different platforms. For people working with text documents you will also be happy to see the option to export as a TIFF, JPEG or PDF file which means gantt charts can be easily embedded within all sorts of documents.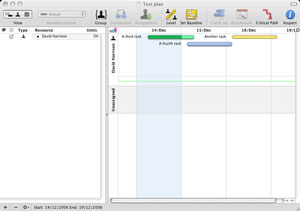 Resource management with OmniPlan (click to enlarge)
The thing that really stood out in using OmniPlan was its export to HTML functionality. This tool quickly generated a multi-page project website. The nice thing about this tool was that the templates are fully customisable using standard HTML and a little bit of specific OmniPlan markup. Unfortunately a drawback was that only one standard template ships with OmniPlan and no preview functionality is provided. It would be nice in future releases to see a set of professional, stylish templates and a preview interface similar to what is provided in Keynote so that project managers can quickly generate stylish web reports with a minimum of hassle. It would also be good to see OmniPlan support automatic upload or synchronisation with online services like .Mac and FTP/Network drives so that these exports can be effortlessly published to the Web or Intranet.
Quickly producing printed copies of project gantt charts and reports is also very easy so long as in the print dialog box you select OmniPlan from the print options drop-down list. Selecting this brings up a host of useful options such as the template to apply, the number of pages the report should span and what data should be included in the print job. Unfortunately if you forget (or fail to notice) this option and just press Print the results are not spectacular to say the least. This is a shame as generally speaking accepting the defaults and seeing what happens is standard human nature. It would be nice if either the OmniPlan print options were displayed by default when the print command is given or like Photoshop, there was some kind of Print with Preview command that let you see a dynamic preview before committing to the actual print job.
Apart from these gripes the 1.0 release of OmniPlan is very solid and holds a lot of potential for the future. Like all Omni Group products it is competitively priced at US$149.95 (a steal compared to Microsoft Project) and a free, fully functional demo is available for download. If the Omni Group's other products are any sort of example there will no doubt be versions 2.0 and 3.0 of OmniPlan that build upon the existing functionality of this first release and extend it further into the realm of Microsoft Project killer. Congratulations go to the Omni Group for getting this out the door (so to speak) and I, like many Mac business users will be looking forward to this products exciting evolution.