After stumbling on the FlashLinux website a few nights ago I had been itching to give this USB based distribution a try due to its inherit potential for becoming a truly portable desktop environment. I have been using Live CDs for a while now mainly for system recovery. Whilst useful I have three issues with the CD distributions. Firstly you cannot save preferences/files (unless you use a USB key), secondly they are generally slow because CD-Roms are not fast and thirdly a CD-Rom is just too big to fit in your pocket.
USB key distributions interest me because I am reasonably mobile. I have a couple of offices plus clients dotted around the city. Also I have a lengthy trip planned in the future and the idea of taking a few USB key based desktops away with me really appeals.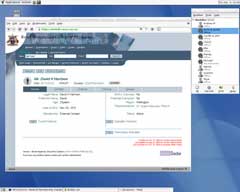 Working Desktop (click to enlarge)

Installation
FlashLinux is a 140 megabyte download and can be found on a number of software mirrors. The website has a very concise yet comprehensive list of commands to install the distribution on your USB key. Fedora Core runs a modified ext2 filesytem that is incompatible with the FlashLinux installation process. At home I run Fedora so after downloaded I rebooted into Knoppix to run the install.
The installation steps are straightforward and offer plenty of room for customization. The manual process basically formats the key to ext2, copies over files and then sets up Grub as the keys boot-loader. Owners of 512meg or higher capacity USB keys could take some time here to create a second FAT32 partition on their key to ensure they can move data between all the different platforms out there.
I rebooted the system and set the BIOS to boot of a USB/HDD device. After dropping out of the BIOS the Grub bootloader on the USB key jumped into action, displaying three boot options for network, ppp or VMWare support. I went with the network option and the computer began booting off the USB key.
Hardware detection went well but unfortunately Xorg did not load successfully. This problem was not unexpected because my graphics card is very new and not officially supported yet. Fortunately the generic NVidia driver works with the graphics board but in order for me to get things going a manual edit of the xorg.conf file was required.
Initial Screen
After loading you are presented with a very tidy X login screen. The default setup has the root account configured with no password. In the past Ive managed to do accidental damage with the root account so I logged on as root, set a password and created a user for myself to play with.
After logging on as myself I began the process of exploring what is available. The Gnome 2.8 desktop is very clean and overall things are very fast. Application wise there is Firefox 1.0 for web browsing, Evolution 2 for email, AbiWord for writing and Gnumeric for spreadsheets. The AbiWord/Gnumeric combination is an interesting move but given the heavy weight nature of OpenOffice its not surprising that these two applications have been used. In my Debian Potato days I used to use AbiWord and Gnumeric and actually prefer then over OpenOffice in many ways. Compatibility with Microsoft documents is not as strong but overall the applications are very capable and efficient at doing what they were designed to do. FlashLinux has a very limited palete of second tier applications. I think is very good when compared to the hundreds of stocking fillers that accompany other distributions. There is Gaim (IM), a Terminal Services client, IRC and an image viewer which should cover most of your application needs.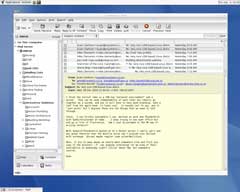 Evolution Email Client


I played with Firefox and Evolution and everything just worked. My problematic onboard network card was detected by the system and configured via DHCP. After some playing with the standard desktop I had a look and feel any Mac user could feel comfortable with. I did some emailing in Evolution and browsing with Firefox. Everything worked really well and it was really impossible to tell that everything was running off a 2inch USB key.



AbiWord, Terminal Services and Print Manager (click to enlarge)


Rebooting
At this point I was a little unsure if all my preferences would be kept on a reboot. I bit the bullet and performed a complete system shutdown and restart. It was really a nice surprise to log back on to FlashLinux and find all my preferences had been stored on the key just like any disk based operating system.
Conclusion
I am really impressed with FlashLinuxs easy setup, clean configuration and tidy desktop tools. I would recommend it to anyone with a spare 256meg USB key and a little tech savvy to download and try. Its failure to detect my video card and the manual install process really places it out of reach from normal users right now but I am sure in a couple of releases all these problems could be solved. The real problem I see needing to be overcome is in the security of local networks. I would love to take this into a customers office and use it but I do not see many of the archaic security managers on these sites being very forthcoming in allowing its use.