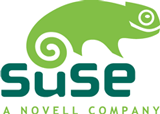 With Emma away on holiday I took the opportunity to update my server to OpenSUSE 10 (from SUSE 9.2). I did a fresh install rather than an upgrade and it all went relatively smoothly. In the process I have moved from a software RAID setup to LVM as it provides a lot more flexibility and the option later to play around with Xen if I want.
In the future I am planning on migrating from Hula to
Scalix or Zimbra
(at this point I am hovering towards Scalix).
Here's a rundown of what is running on the server:
Hula (email)
FreePOPs (hotmail/yahoo pop3 getter)
MySQL (database)

Apache (http server)
OpenLDAP (user accounts)
Subversion (sofware development)
CUPS (print server)
Samba (Windows file server)
Sane (Network scanning)