Late last week Apple released Boot Camp, a tool that greatly simplifies the installation of Windows XP on Intel Mac hardware. Obviously this tool has been in development for some time, it and the included Windows drivers CD image are very slick. Once hackers managed to figure out how to get Windows XP running on the Intel hardware a few weeks ago it must have been decided within Apple that now was a good time to let the cat out of the bag.
OSX and Windows after Boot Camp (click to enlarge)
Last night I used Boot Camp to install Windows XP on my Intel Mac. The process was very smooth and the instructions provided by the software could not have been clearer. After about an hour I had a fully functional Windows XP install with graphics, wireless, bluetooth and sound all working without hassle. In fact it was significantly less work to set Windows up on an Apple Mac than it is to do the same with a Dell machine. Hopefully this tool will urge Dell and HP into action in this regard.
Another nice touch is that the Windows volume is accessible from OSX so it is straightforward to copy things to the Windows partition. Unfortunately as Windows does not support HFS (yet) the reverse is not possible.
The only negative was that no driver was included for the iSight. This is probably not a technical issue but rather Apple just trying to force users into iChat rather than a competitor like Skype.
Below are some screenshots of the process. At the end you are left with a dual boot system complete with a very nice boot selector and options within both operating systems to select which is your primary boot disk (a very nice feature).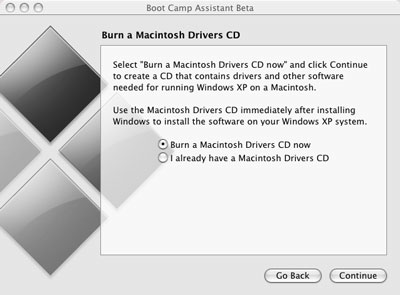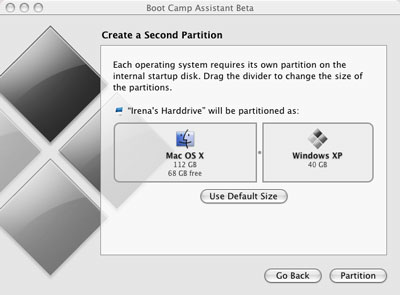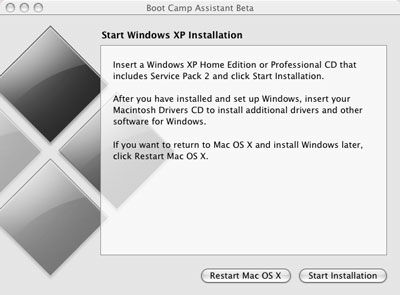 The documentation mentions this is a technology preview release for the upcoming Leopard release of OSX. Personally I'd rather see virtualisation brought into play so that you can easily run Windows applications at full speed within OSX with the option of booting into Windows for those times when you need a lot of horsepower for games. Either way the Boot Camp Beta is a great tool that has really opened up the gaming and CAD options when using Mac hardware.