This post expands upon a talk I gave recently about using blogs as an academic research and thought development tool.
Identify interesting people in your field of study

Academic research is one part original thought and ninety nine parts identifying the limits of existing knowledge. This task can take up a good part of your time and when it comes to the Web identifying movers and shakers in your field can be frustrating and highly unproductive task.
Online communities: social networks and newsgroups
The first place to start when identifying interesting people in your line of study is the various social networks and interest groups on the Web.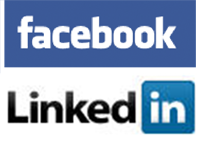 As far as social networks go arguably the two most productive for finding people are Facebook and LinkedIn. Whilst Facebook is aimed at the casual user there is a diverse range of interest groups forming around nearly every topic imaginable. Don't despair at the variable quality of the content within these groups, the fact you are almost always dealing with real people makes the effort needed to browse through these groups worthwhile. Likewise whilst the business-centric LinkedIn lacks Facebook's group capabilities you'll be surprised how many people in your extended professional network share similar interests or could be of benefit to your research.
At the more traditional end of the spectrum newsgroups like those at Google Groups and Yahoo Groups are good places to to find clusters of people interested in your research. Most newsgroups are welcoming to newcomers, especially those that have something to offer, but it pays to passively monitor potential groups for a while in order to properly gauge the tone and style of the people involved. Whilst it may seem easy to charge straight in, it is hard to rebuild bridges if you start things off on the wrong foot. For example it is not good karma for your first newsgroup posting to read "can someone tell me everything about subject X".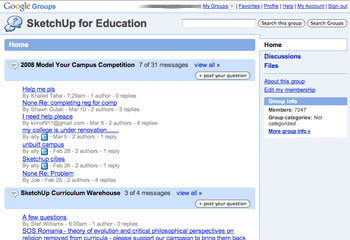 A typical Google Groups group (click to enlarge)
Social bookmarking
There are a growing number of websites dedicated to storing and sharing your Web bookmarks.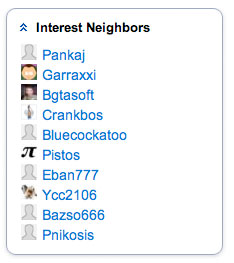 The most notable of these is del.icio.us but there are others such as Diigo and Simpy that are also very good.
These online repositories assist your research by helping you find people with similar interests as yourself. This is achieved by browsing through the 'tags' people associate with their bookmarks, whilst some services can even recommend people who appear to share similar interests as yourself. Social bookmarking can also act like a human powered search engine by enabling you to track popular or new bookmarks on a specific topic. However the drawback of social bookmarking is that for the system to function at its full potential you must publish your bookmarks for the world to see. This maybe a problem if privacy is an issue with your research or you just don't like the idea of being 'on show'.
Traditional search engines
When it comes to academic research most fields of study have large, searchable repositories of published work such as digital architecture's Cumincad and the ITC Digital Libraries. Alongside these targeted resources are generic academic search tools like Google Scholar and many more. Using a traditional search engine like Google or Yahoo for research purposes is possible but it can be of limited value as these tools are tuned to provide relevant rather than current results. Whilst fine for background purposes such a characteristic is not ideal for identifying leading edge thinking.
Blog search engines
Blog search engines like Technorati, Google Blog Search and Icerocket are focused on providing a window into current activity on the Web rather than identifying the most relevant (i.e. linked to) content. Using these tools is beneficial from a research perspective because it helps identify people out there that are currently writing about your field of research. This is different to academic journal repositories and conventional search engines where the actual content can be months or even years old.
Unfortunately by focusing on current events rather than relevancy blog search engines are prone to returning a lot of chaff (rubbish) alongside some useful nuggets of information. As a consequence the value of blog searching needs to be measured over a long period of time rather than a couple of minutes. Like panning for gold the same blog search repeated every day for a month will eventually yield a useful set of results. Performing this search and collating the results every day is very time consuming and subject to error, but fortunately there is a technology called RSS to help you out (more on that later).
Personal and corporate blogs
All going well you should be on your way to uncovering some key people in your field of study. These people maybe visionaries or just very good at keeping track of what exactly the leading edge is in your field of research. At this point it is important to determine whether these people (or people closely associated with them) maintain personal or corporate blogs. A blog is often the most efficient means of information discovery because unlike search engine results or academic journals you are able to access and disseminate the thoughts of these people as soon as it becomes available. Also the casual writing style often used in blogs can provide an emotional angle on research which highly crafted academic papers or books often lack.
Beyond the actual content the hyperlinks within a blog and the comments made about it are two significant research assets. It is very common for a blog to hyperlink to at least one other source of information. These links represent a free research lead which can often prove of more value than the originating blog post. Many blogs also support commenting which is a great way of gaining the attention of the author and understanding what other people think about what has been written. Don't forget that everyone appreciates positive comments and hearing from people with similar interests. If your goal is to get noticed then constructively participating in someone's blog is a great way of beginning this process.
The principle of Really Simple Syndication (RSS)

Visiting multiple websites every day just to see if something has changed is not the best way to spend your time. Fortunately Really Simple Syndication (RSS) exists to enable computers to automatically monitor a website's content and collate it in one convenient place. At its heart RSS is a set of standards for describing new web content in chronological order. On the face of it these RSS feeds may not seem very useful, but to a computer they are a simple means of comprehending a website's content without all the graphical and textual distractions. Most time-centric websites (i.e. blogs, news and search sites) now publish RSS feeds. If you have a modern Web browser like Firefox, Safari, Opera or Internet Explorer 7 you will see a little RSS notification somewhere on your screen when such a resource is available.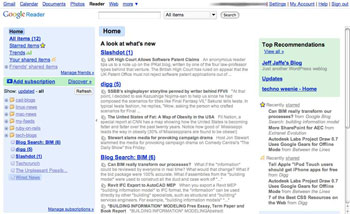 Google Reader (click to enlarge)
By itself RSS does not do much until you combine it with a 'reader' application. There are numerous RSS readers available with two of the most popular being Google Reader and Newsgator. Both of these RSS readers are free and require no software to be installed on your computer. Once signed up to the service you can subscribe to any number of websites you wish by following the instructions on the Google or Newsgator websites.
Adding your own content to the mix
Research is a bi-directional process and it is no fun just being a consumer of information. Fortunately there are plenty of free tools out there for writing your own blogs, the hard part is really deciding on which one fits your needs best.
Micro-Blogging tools
Committing to a blog is a big step especially if you have not created online content before. You may find it easier to dip your toe in the online waters by trying out a micro-blogging tool like Twitter or Pownce. These are very simple hosted services that let you write very short statements online. The idea may sound a little goofy but if your primary aim is to scrapbook a bunch of ideas, hyperlinks and images such a tool is a good place to start.
B

logging tools

There are plenty of choices as far as blogging tools go but if you are just getting into it then Blogger and Wordpress are two good places to start. Both services are free and hosted so you do not need to worry about spending money or configuring Web servers. There are limitations to hosted blogging services but for academic research purposes there really is not much need to look at more complicated (or costly) blogging solutions.
Blogging tips
When you start out blogging try to resist the urge of writing lengthy formal documents that could just as easily end up in an academic journal. The key is to try and write succinctly and regularly so that your thoughts are recorded and have time to evolve. There are plenty of blogging tips out there but here are some of the basics:
Keep your posts shortish (250-1000 words) or break long pieces of writing into multiple posts.
Get your idea across very quickly - many people will only read the title and first few sentences.
Treat your post as a moment in time - if you were wrong or change your mind later write a new post.
Visual impact is important - try to get one or two interesting images to break up the text.
Citations
Citing in blogs is difficult because a traditional hyperlink is not very accurate when it comes to pinpointing specific words on a page. Fortunately there is Citebite which lets you highlight a specific quote. The service is free to use and a great way of pinpointing those quotes for future reference.
Getting noticed in a crowded world
The importance of getting noticed by others will vary depending on your personal intentions. Whilst some blogs are for personal use or sharing amongst a group of friends the overriding majority are written by people wishing to broadcast their thoughts to the general public. Attracting attention is useful from a research standpoint because it can result to new information leads or professional relationships. However like a shampoo advert; building an online reputation will not happen overnight - but it will happen.
Get into Google's index (and the rest)
Google is the most popular search engine out there and it is important that your blog gets in it. To submit your blog to Google go to the following page and submit your blog's URL. It will take Google a little while to index your site but once it has it will be regularly checked by Google for changes. If you found that little exercise easy then head over to Yahoo and Microsoft's search sites and do the same thing.
Pimp your blog
Once you have a presence on the web it is easy to direct others to your site by including its URL in the comments you make on websites and in email conversation. When you look around you will find lots of places where you can advertise your blog, for example Facebook, LinkedIn and most photo sharing websites all provide a space for linking to your blog.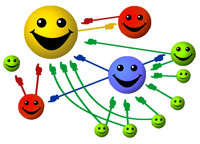 Making sure your blog URL is recorded in as many places as possible is important because Google and other search engines rank websites based on the number of other sites that link to them. This concept, often referred as PageRank, was the key behind Google's initial success in web search engine market during the mid-90's. Ultimately your objective is to have your blog linked to by a website that Google considers really important. Once this occurs a few times you will notice a definite increase in the quantity and quality of people taking notice of what you write.
Optimise your RSS feed
These days all blogging software can produce an RSS feed for other people to subscribe to. Unfortunately even though RSS stands for 'Really Simple Syndication' the technology itself is far from simple. There are now three RSS standards (RSS-0.9x, RSS-2.0 and Atom) and many of the programs for reading or writing RSS can only understand one or two of these formats.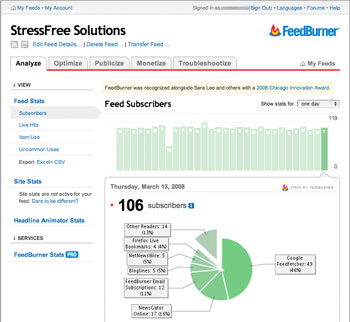 Feedburner statistics (click to enlarge)
Fortunately there is a free service called FeedBurner which gets rid of all this hassle by ensuring that your RSS feed can be read by anybody. After signing up for a FeedBurner account point it to the URL of your RSS feed and it will create a special RSS feed that any program can understand. Not only this but FeedBurner will also automatically submit your content to search engines and track who is reading what you publish.
Notifying search engines of new content
Blogging is a time-centric medium; we generally read blogs to get an understanding of someone's thought process rather than for sources of definitive information. Traditional search engines can take a while to index your blog and even after this happens it can take a very long time before your content begins to feature near the top of searches (if at all).

Fortunately there are a range of blog search engines out there ready and willing to index and present your content to the world as you write it. Before this can happen they first must be told you have written something which is where Ping-o-matic is useful. This free tool is very good at notifying all these search engines you have new content on your blog. Within minutes of using Ping-o-matic your content will be indexed and displayed in search results from the likes of Technorati and Google Blog Search.
Tracking your impact
If you are trying to build an online reputation it is important to be able to gauge where you and your content stands. Is all your hard work paying off or are you being ignored? Even when people start reading your work what was it that brought them to your blog in the first place? Believe it or not but it is very easy to answer these questions by studying the behavior of your readers through free web-metrics tools like Google Analytics.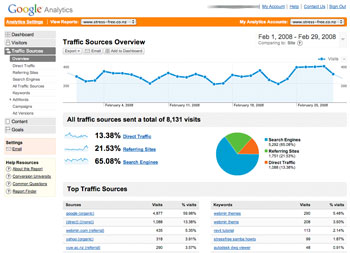 Google Analytics (click to enlarge)
Setting up Google Analytics can take a little bit of effort but overall it is not that hard to do. Like all statistical processes the results you get initially cannot be put to practical use but after six months the accumulated data will paint a very clear picture of who reads your work and what drew them to your blog in the first place.
Concluding thoughts
Contrary to popular belief starting a blog will not lead to instant fame or earn you piles of money from advertising. As a research tool however understanding how to consume and produce blogs can be very beneficial for developing ideas and building links with new people. This being said any results you experience will take time and certainly don't expect to the leading thinkers in your field to come knocking at your door the very next day. Persistence and a little bit of luck is the key; but like any long journey the satisfaction comes from the path you take and not the eventual destination.