I was recently asked to comment on what the pros and cons were of Java compared to ColdFusion and ASP.Net when it comes to Web development. I guess the first thing to get straight with this question is what exactly constitutes 'Java' in a Web development sense.
The basics of the two technologies
The diagram below outlines the elements that comprise of Java and .Net Web development.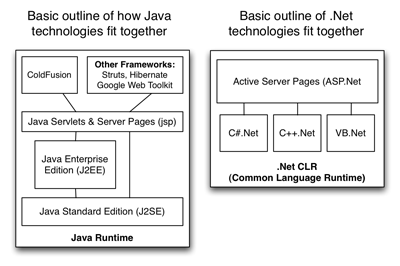 Both technologies are very similar as in essence Microsoft based .Net on many of Sun's original Java concepts and borrowed a lot of Java syntax when designing C#. Both utilise managed containers in which code is compiled and executed within. These containers are referred to as the JavaVM or CLR runtime in Java and .Net respectively. Both managed containers have the ability to execute code written in a number of languages, for example it is not uncommon to have a .Net application written in both VB.Net and C#. Whilst not as common the Java runtime is also beginning to support multiple languages such as Python and Ruby. Increased emphasis has come on this ability after the meteoric rise to fame of the Ruby on Rails Web development framework.