BluePhoneElite
is a nice piece of free software for OSX that works in conjunction with your bluetooth enabled device to provide a host of new functionality. Bluetooth integration for most phones is provided in OSX but BluePhoneElite takes it to a new level, providing intelligent phone and SMS message management tools plus some really neat proximity features that add a new dimension to using your Mac.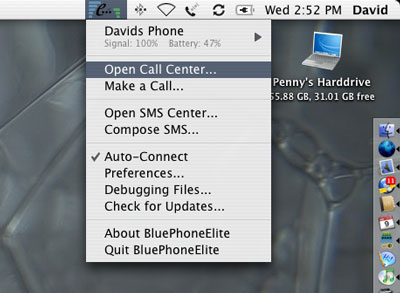 BluePhoneElite in the menubar
Background Operation
BluePhoneElite runs in the background and can be configured to appear on your dock or in the menubar. I personally like the menubar as my dock is crowded at the best of times. The icon provides a convenient overview of your signal strength and battery levels. A single click on the icon provides access to all of BluePhoneElite's features via a tidy menu system.
Call Center
Whilst not too amazing compared to the functionality of the OSX Address Book, Call Center provides a tidy way of ringing and managing your cellphone calls when you are sitting at your computer. BluePhoneElite integrates with Address Book so all your numbers are available at a single keypress using an intelligent search tool. The Call Center also provides options for placing calls on hold and a few other nice shortcuts.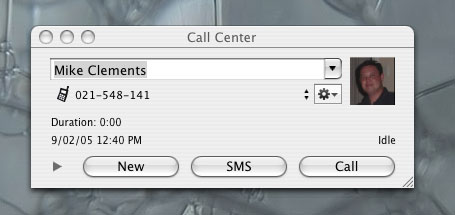 Making a phone call with the Call Center
Incoming calls can be displayed onscreen rather than having to look at your phone and there is the option to hang up or give the caller the busy tone. This is really useful for when your phone is in your pocket and you want to filter important calls.
SMS Center
My cellphone can store 120 txt messages before it starts complaining about memory space. This number is really tiny considering how small a typical txt message is. SMS Center is a great Mail like client for SMS that allows storage and sending of SMS messages from your computer via the cellphone. Messages are searchable and can be ordered any way you like. I have found this a great way of managing and sending txt's when working. Far and away the most useful feature is the local storage of SMS messages for archiving. Often I have lost a phone number or address through inadvertant deleting of SMS messages, but hopefully with BluePhoneElite in place this will now be a thing of the past.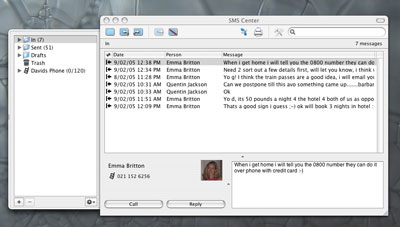 The Mail like SMS Center
A New Dimension: Proximity
Perhaps the most interesting feature is the proximity functionality built into the software. When your phone leaves or enters bluetooth range the software can perform specific tasks. This is great when you leave your desk as the computer can automatically turn on the screensaver or pause the currently playing iTunes track. Likewise when you return the software senses your arrival and can then turn off the screensaver and once again begin playing your music. Really cool and a little freaky at first :-)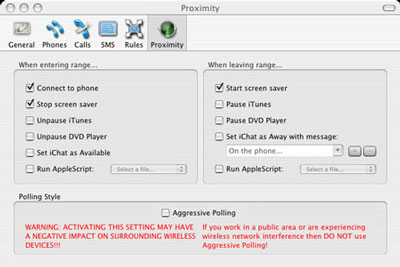 Proximity options in the Preferences tab
Conclusion
For a piece of free software BluePhoneElite is a must have for any OSX user with a bluetooth capable phone. The SMS functionality alone is worthwhile but the added proximity and caller features make it a must have. In the future it would be nice to see the SMS Center somehow integrated into Mail and/or iChat to provide a one stop shop for all your text based message services. Down the line another really useful feature could be integration with your computer's speakers and microphone to enable handsfree operation similar to iChat.