In April I presented a paper at the GSD Critical Digital Conference at Harvard University. The paper was co-authored by my supervisor Mike Donn. The conference itself was pretty good considering it was the first time it had been run. You can find my paper along with all the others online at the Critical Digital website. However for posterity (and Google) I have included the text of my paper below.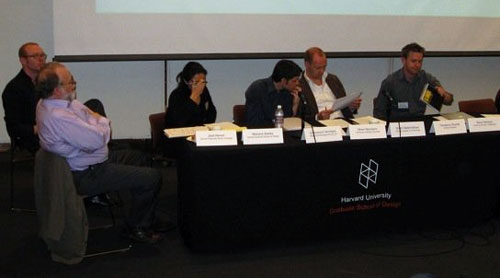 ---
Using Project Information Clouds to Preserve Design Stories within the Digital Architecture Workplace

Abstract
During the development of an architectural design a series of design stories form. These stories chronicle the collective decision making process of the diverse project team. Current digital design processes often fail to record these design stories because of the emphasis placed on the concise and accurate generation of the virtual model. This focus on an all-encompassing digital model is detrimental to design stories because it limits participation, consolidates information flow and risks editorialisation of design discussion. Project Information Clouds are proposed as a digital space for design team participants to link, categorise and repurpose existing digital information into comprehensible design stories in support of the digital building model. Instead of a discrete tool, the Project Information Cloud is a set of principles derived from a proven distributed information network, the World Wide Web. The seven guiding principles of the Project Information Cloud are simplicity, modular design, decentralisation, ubiquity, information awareness, evolutionary semantics and context sensitivity. These principles when applied to the development of existing and new digital design tools are intended to improve information exchange and participation within the distributed project team.