I have been using NewsGator's NetNewsWire for Mac RSS reader for years but yesterday I moved all my RSS feeds over to Google Reader and closed NetNewsWire for good. There are lots of things to like about NetNewsWire like its tabbed windows, responsiveness and polished look and feel, but even with these things in mind it struggles to compete with the best online RSS readers out there today.
I played around with Google Reader in its first carnation last year but its interface went over my head. It seemed to me they were trying to be clever with news rather than give users an interface they were used to and actually wanted. Recently Google re-released Reader in a far more conventional guise making the overall experience very similar to traditional RSS readers with a few added bonuses.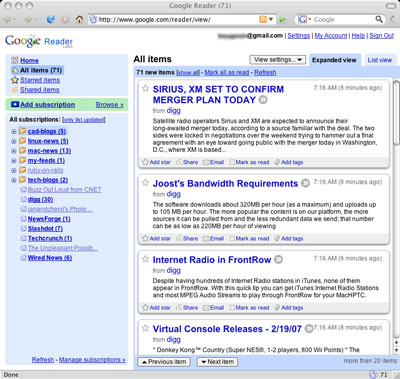 Google Reader with the Google Reader Firefox extension visible in the bottom right corner of the window (click to enlarge)
So how does Google Reader, a Web-based application overcome NetNewsWire's OSX savvy advantages?